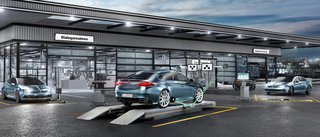 For smooth running workshops: Beissbarth wheel balancers
Beissbarth offers wheel balancers for any kind of application: passenger and commercial vehicles, truck, buses and motorbikes. A big range accessories allows our wheel balancers to cover custom wheels...
Read more
Beissbarth offers wheel balancers for any kind of application: passenger and commercial vehicles, truck, buses and motorbikes. A big range accessories allows our wheel balancers to cover custom wheels up to 44 inches diameter and 15 inches width and as well OE standards.
Balancing procedure is a matter of speed:
6 seconds measuring cycle
One touch, intuitive, optimized interface
Automatic program acquisition, locking system, wheel positioning and laser light (class two)
Ergonomic weight tray
Our wheel balancers are homologated and recommended by leading automotive manufactures (Volkswagen and BMW).
*all lasers: class two