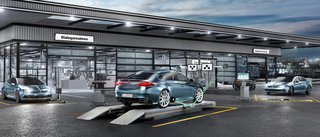 Headlight testing device MLD 815 Ford
Beissbarth MLD 815 Ford - Digital headlight measurement and adjustment according Ford requirements
Article number: 1 692 104 338

Headlight testing system MLD 815 with Ford homologation
Homologated headlight testing system for Ford workshops
Alignment to the vehicle center line according Ford requirements: with laser module and rear target post
Including developed software function for glare-free high beam system (ILS / GFHB) built into Ford models
Alignment kit for alignment on the vehicle center line (Ford requirement)
Exact alignment to the vehicle center line: with laser module and rear target post
Designed for Ford vehicles with glare-free high beam, usable for all manufacturers vehicles to increase the precision
Attached to the rear of the vehicle using magnets or suction cups
Fine adjustment for exact positioning to the vehicle center
High quality, highly visible, green vertical laser
Low laser class - 1M
Note: Rail system is mandatory to use this alignment solution (Ford requirement)
German Road Traffic Type-Approval Law StVZO § 29 general-inspection headlight-test directive: MLD 815 Ford can be calibrated according to the legal requirements
TÜV certificate in line with StVZO § 50 - TPN 10010 1161: MLD 815 Ford is TÜV-certified by prototype technical release examination in accordance with the directives for testing headlight adjustment/test equipment (German Road Traffic Type-Approval Law StVZO §50 paragraph 5).
The vehicle center line alignment with pendulum is considered in the type approval certificate.
The alignment (leveling) of the MLD 815 Ford on the testing bay corresponds to the latest requirements
Two-dimensional spirit level for horizontal leveling of the optical box
Levelable 3-Wheel base system fitting for all common rail systems
Levelable rail system for above and inground installation (3 m) as optional available accessory
Digital headlight testing with MLD 815: intelligent, fast and precise
Cross- and alignment laser for precise positioning
For all light sources (Xenon, Bi-Xenon, LED, Bi-LED, Halogen) and glare-free high-beam systems (Dynamic Light Assist - DLA, Matrix, ILS Ford)
All types of vehicles (passenger cars, trucks, motorcycles)
All types of headlights (main headlights, fog lamps, auxiliary lamps)
CMOS camera for real-time digital image processing
Built-in printer
Measurement results in real time
Comparison between measured and limit values and unambiguous red/green evaluation
Precise definition of the cut-off line without disrupting blue fringe
Digital LCD colour display (5.7") with 262,000 colours
Touch-screen function (operation with gloves is possible)
Intuitive and simple user guidance
Visual and acoustic signals support the measurement procedure
Menu featuring 7 languages
Operating panel can be rotated by 180° for different areas of application (e.g. for general inspections or for the adjustment at the workshop)
Independent operation thanks to battery - Storage battery Alignment laser 3 x Mignon AA 1.5 V - Storage battery Alignment laser vertical 4 x Mignon AA 1.5 V
Measuring height (optical center): 24 - 145 cm
Measured values: Horizontal and vertical deviation (pitch angle), intensity, roll angle, yaw angle
Digital precision: +/- 1 cm on a 10-meter measuring distance
Reliable check and adjustment of permanent high beams (e.g. Dynamic Light Assist - DLA, Matrix Beam etc.)
MLD 815 Ford assists the user with intelligent headlamps:
Mechanical adjustment of the vertical cut-off line (e.g. DLA, ILS)
Positon of the cut-off line read out by means of the MLD 815 Ford software - with an accuracy level based on angular minutes (e.g. bei Matrix Beam)
Note: To adjust the glare-free high beam, an OBD diagnostic device is also required
Test results via WLAN with quick and aptly arranged results on the PC
Optional: visualization on the workshop computer
Displaying of the cut-off line on the PC monitor or TFT screen
Data transfer to PC via WLAN
User interface simplifies intuitive use
Database function
Printing and archiving
Adjustment of the colour scheme by the user: Light/dark background depending on the lighting conditions
Workshop Network Connectivity: Supports Bosch Connected Repair, ASA Network Compatibility is guaranteed"
Certificate: CE, TÜV, EMC, FCC, FDA
| | |
| --- | --- |
| Operating temperature | 5 - 45 °C |
| Power supply | 100 - 240 V | 50 - 60 Hz |
| Battery voltage (DC) | 12 V |
| Height of light center | 250 - 1500 mm |
| Measuring range lowest stand/highest stand | 600 - -600 mm |
| Light intensity | 0 - 150000 cd |
| Illumination | (1m) 0 - 150000 / (25m) 0 - 240 lx |
| Storage temperature | -25 - 45 °C |
| Version | - digital |
| Packaging length | 650 mm |
| Packaging width | 1790 mm |
| Packaging height | 700 mm |
| Gross weight | 40 kg |
| Measuring range low beam left/right | 1000 - -1000 mm |
| Measuring range high beam left/right | 1000 - -1000 mm |
| Relative humidity storage | 20 - 80 % |
| Relative humidity, use | 30 - 60 % |
| Radiant power alignment laser | 5 mW |
| Operating voltage alignment laser | 3 - 5 V (DC) |
| Laser class alignment laser | 3R |
| Projection alignment laser | 130° x 0,4 mrad |
| Laser diode alignment laser | 635 nm |
| Laser class cross laser | 3R |
| Projection cross laser | 90° x 0,4 mrad |
| Laser diode cross laser | 635 nm |
| Radiant power cross laser | 5 mW |
| Operating voltage cross laser | 3 - 5 V (DC) |
| Projection alignment laser (vertical) | (P-Assist S5) 130° x 0,4 mrad |
| Laser diode alignment laser (vertical) | (P-Assist S5) 520 +/- 5 nm |
| Laser class alignment laser (vertical) | (P-Assist S5) 1M |
| Radiant power alignment laser (vertical) | (P-Assist S5) 10 mW |
| Operating voltage alignment laser (vertical) | (P-Assist S5) 4,5 - 6 V (DC) |
| | |
| --- | --- |
| Rail kit 3 m | 1 692 105 080 |
| Extension kit for rail kit | 1.5 m | 1 692 105 112 |
| Height-messuring sensor | for MLD 6xx and 8xx | 1 692 105 066 |
| Cover for headlight testing devices | 1 692 105 079 |
| PC Software Icperform - Headlight | 1 692 105 145 |
| Matrix 2 Upgrade | for MLD 815 | 1 692 105 269 |
| Ford Matrix | for MLD 815 | 1 692 105 288 |
| Skoda Function | for MLD 815 | 1 692 105 289 |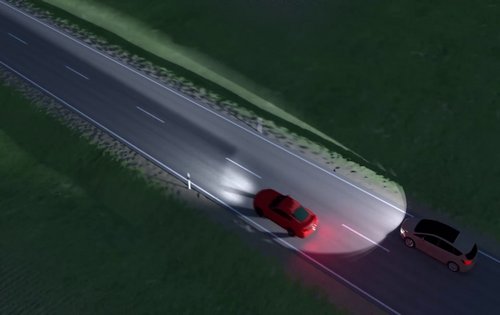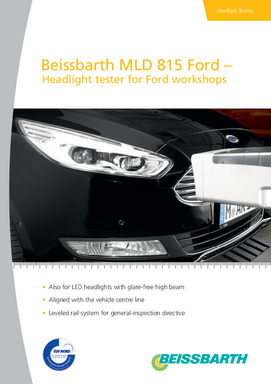 Headlight Tester MLD 815 Ford
Date

2021-05-05

Type

pdf
Product information sheet