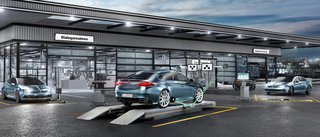 Wheel aligner KDS 3D | for BMW
Wheel Alignment with 3D technology - High speed, high precision and easy to use | Cable version | with cabinet, HighPerformance PC, 27" monitor and printer | incl. lift adapter, turntable Precision for front and rear axle, ride height markers and OEM magnetic clamps with longer magnets
Article number: 1 690 700 011

High measuring accuracy and precision for top results
The combination of the Beissbarth stereo camera measurement system with active reference system and sophisticated software ensures the accurate determination of measured values.
Perfectly integrated into ADAS calibration and head light testing:
The space in front of the lift can be used for the ADAS calibration jig and head light tester
Highly repeatable initial measurement
Rolling or driving run-out compensation at ground level
Three selectable measurement routines: program-driven, quick measurement, choice-free access to single-value check
Sophisticated software for maximum measurement and adjustment efficiency
Real-time display of measured values combined with vehicle specs
Visually animated adjustment instructions for third-party vehicles
Several languages as standard for staff from all over the world
ASA network ready
Easy and live ride height measurement with easy to attach ride height targets
Ride height measured automatically
Ride height measured permanently during alignment
Automatic adjustment of vehicle specs according to ride height information
Sensor heads can be easily detached from the lift when not in use to clear up space
Beissbarth DualView camera system for ultimate control, especially of complex chassis
No fixed position for targets on the vehicle eliminates room for error
Plug & play: no calibration required for installation or for exchanging targets
Extensive Beissbarth vehicle database including alignment helps directly from the OEMs
Quality Made in Germany
Cable version
Scope of delivery:
Sensor head with DualView camera technology
Target boards
Ride height markers universal with transportation case
Ride height markers for Mini / Z3 / Z4
Vehicle specs database with additional BMW Professional data
Cabinet
HighPerformance PC
27" Monitor
Printer
OEM magnetic clamps with longer magnets
Lift adapter
Precision Turntable for front and rear axle
Remote control
Brake pedal depressor and steering wheel holder
Please note: the cable set for installation needs to be purchased separately, depending on the lift type
The KDS 3D only allows the use of magnetic clamps. The use of other wheel clamp solutions in combination with the KDS 3D is not approved by the BMW Group.
| | |
| --- | --- |
| Operating temperature | 5 - 40 °C |
| Power supply | 120 - 220 V | 50 - 60 Hz |
| Data transmission type | - corded |
| Measuring system | - 3D |
| Power | 0,5 kW |
| Storage temperature | -20 - 60 °C |
| Relative humidity, use | (40 °C) 10 - 90 % |
| Height cabinet | 1520 mm |
| Width cabinet | 880 mm |
| Depth cabinet | 770 mm |
| Weight cabinet | 100 kg |
| Height sensor head | 130 mm |
| Width sensor head | 320 mm |
| Depth sensor head | 630 mm |
| Weight sensor head | 9,3 kg |
| | |
| --- | --- |
| Vehicle database update Cars & Vans Europe | Key Card | 1 690 002 015 |
| Ride height markers BMW | KDS 3D models | 1 690 701 132 |
| Special ride height markers BMW | Mini / Z3 / Z4 | 1 690 701 095 |
| Replacement adhesive pads for BMW ride height markers | small | 1 690 701 236 |
| Replacement adhesive pads for BMW ride height markers | large | 1 690 701 228 |
| Mechanical aluminum turntable Precision | 1 690 401 028 |
| Protective rubber cover for aluminum turntable | 1 690 402 001 |
| Drive-on ramps for two aluminum turntables | 1 690 701 052 |
| Drive-on ramps for turntables and sliding plates | 1 690 401 008 |
| Lift adapter extension from one to two positions | 1 690 701 503 |
| Special lift adapter for Beissbarth / Consul | 1 690 701 123 |
| Special lift adapter Extension for Beissbarth / Consul | 1 690 701 311 |
| Special lift adapter for lifts with U-profile | 1 690 701 020 |
| Extension magnet for magnetic holder | 100 mm | 1 pc. | 1 690 701 523 |
| Target boards 340 cm | 1 690 701 032 |
| Extension for vehicles with narrow track width (Smart) | 1 690 701 127 |
| Standard target board for Easy 3D | 1 690 711 005 |
| Cable set 7.5 m / 7.5 m | 1 690 701 205 |
| Cable set 12 m / 12 m | 1 690 701 029 |
| Cable set 15 m / 15 m | 1 690 701 030 |
| Cable set 25 m / 25 m | 1 690 701 163 |
| Brake pedal depressor | 1 690 401 006 |
| Steering wheel holder | 1 690 401 007 |
| Step protection for Easy 3D | 1 690 701 045 |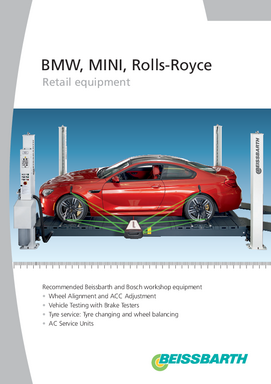 BMW, MINI, Rolls-Royce – Retail equipment
Date

2019-12-05

Type

pdf
Product information sheet