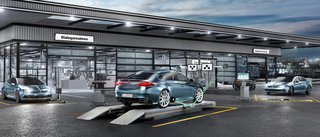 RaceScales | VAS 701009 | Precision turntable with load cells | 433Mhz
4x battery powered high precision turntables with weight function for full integration of corner balancing into the wheel alignment process.
Article number: 1 690 400 100

Electronic corner weight scales: Optimal adjustment of the chassis in connection with the wheel alignment
The electronic corner weight scales carry out high-precision weight distribution on the vehicle. In connection with the wheel alignment, the chassis can be optimally adjusted. This provides maximum levels of grip and better overall handling of the vehicle.
By the help of the corner weight scales the static weight distribution as well as the center of gravity optimization are integrated into to wheel alignment process. This not only ensures a stable and levelled working surface for optimal measurement results but also allows the immediate re-adjustment of camber, caster, and toe settings after the change in ride height. In motorsports the RaceScales ensure best race settings of the vehicle for faster lap times.
Digital corner balance scales:
High precision for best measurement results
High performance lithium polymer battery, wireless
Seamless integration in all common wheel alignment lifts
Compatible with all Beissbarth wheel aligners and third-party systems
Intuitive software with clear display of measured values
Always-on-top mini screen with live values of the four wheel weights
Software functions for optimal weight distribution:
Weight distribution per wheel
Weight distribution per axle
Difference between front and rear
Weight distribution per side
Difference between left and right
Cross Weight
Cross Weight in %
Total weight
Live center of gravity
Weighing protocol with company and customer information
Features wheel alignment turntables:
With steering sensor for maximum steer measurement with CCD, Touchless, and Q.Lign wheel aligner
Very high quality and durability
Steel balls for reduced friction and higher accuracy
Compatible with all common wheel alignment lifts
Seamless integration in wheel alignment lifts without fixed rear sliding base
Scope of delivery:
2 turntables Precision with load cells and steering sensor (433 MHz)
2 turntables Precision with load cells without steering sensor (433 MHz)
4 turntable covers
4 charging cables (4 m)
2 USB power supply
Radio receiver (433 MHz)
Software and documentation (on USB flash drive)
Technical specs:
Maximal load capacity per turntable: 1000 kg
Frequency: 433 MHz (not suited for North America or Japan*)
Battery runtime under full load: >24 h
Measurement accuracy: <0,2% of final value (0 -1,000 kg measuring range)
Resolution: 1 kg
Required operating system for PC visualization: Windows 7 / 8.1 / 10
All corner weight scales are factory calibrated through ISO-certified measurement laboratory!
*Other versions for North and South America (915 MHz) and Japan (920 MHz) available
Listed as official Porsche accessory: VAS 701 009
| | |
| --- | --- |
| Weight | 19 kg |
| Length | 450 mm |
| Height | 54,5 mm |
| Packaging unit | 1 Pallet(s) |
| Operating temperature | 0 - 40 °C |
| Turntable capacity | 1000 kg |
| Data transmission type | 433MHz cordless |
| Width | 515 mm |
| Accumulator power (electric charge) | 5.92 Wh |
| Set-up width | 450 mm |
| Set-up length | 450 mm |
| Frequency | 433 MHz |
| Storage temperature | -10 - 60 °C |
| Country of Origin, customs | DE |
| Number of languages (software) | 14 |
| Load capacity per turntable | 1000 kg |
| | |
| --- | --- |
| Set of Drive-on ramps | for RaceScales | 1 692 000 221 |
| Flight Case | for RaceScales | 1 692 000 224 |
| Calibration tool | for RaceScales | 1 692 000 223 |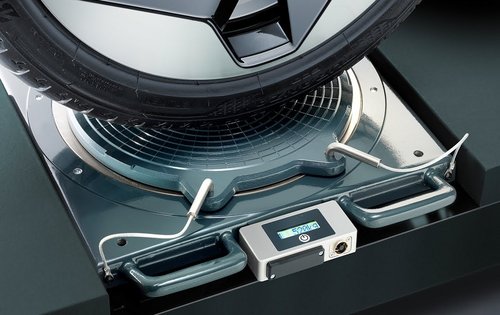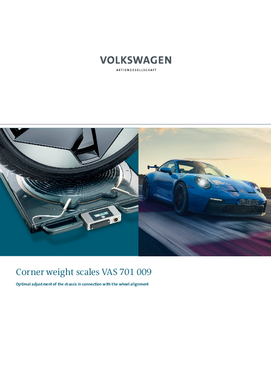 Volkswagen: VAS 701009
Date

2021-07-19

Type

pdf