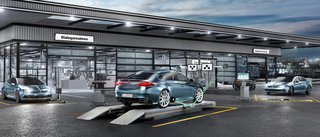 Headlight testing device MLD 110 | for Mercedes-Benz
Beissbarth MLD 110 Mercedes-Benz - Headlight testing system for Mercedes-Benz workshops
Article number: 1 692 104 334

German Road Traffic Type-Approval Law StVZO § 29 general-inspection headlight-test directive: MLD 110 can be calibrated according to the legal requirements
TÜV certificate in line with StVZO § 50 - TPN 2023-05-2208483: MLD 110 is TÜV-certified by prototype technical release examination in accordance with the directives for testing headlight adjustment/test equipment (German Road Traffic Type-Approval Law StVZO §50 paragraph 5).
The alignment (leveling) of the MLD 110 on the testing bay corresponds to the latest requirements
Two-dimensional spirit level for horizontal leveling of the optical box
Levelable rail system for above- and inground installation is a mandatory accessory
Levelable 3-Wheel base system
Headlight testing with MLD 110 Mercedes-Benz: for Mercedes-Benz workshops
Crosslaser for precise positioning
Analogue system for all light sources (Xenon, Bi-Xenon, LED, Bi-LED, Halogen)
All types of vehicles (passenger cars, trucks, motorcycles)
All types of headlights (main headlights, fog lamps, auxiliary lamps)
On required rail system. Rail system must be ordered separately
Column and optical box constantly oriented 90° towards the roll-on markers
Digital Luxmeter: 3 photo diodes within the test screen measure the intensity of the illumination, which is then displayed on the digital lux meter. This makes for easy identification of outdated or low-quality light sources.
Universal aiming screen: MLD 110 test screen for both right-hand and left-hand traffic
Two-dimensional spirit level for exact levelling
Mercedes-Benz homologated alignment system
Vehicle alignment by means of yellow 7-metre roll-on markers (for trucks: 9 m)
Permanent fixation and precise alignment to the roll-on markers of the optical box
Target column adapter for night vision assistants. Practical board fixture by means of a magnet. The target board itself is not included in scope of delivery.
With colour filter attachment: LED1 color filter for LED headlights filters out the disrupting blue fringe in the area of the cut-off line and thus simplifies the visual assessment by the workshop technician.
Certificate: CE, TÜV
| | |
| --- | --- |
| Operating temperature | 5 - 45 °C |
| Battery voltage (DC) | 9 V |
| Height of light center | 250 - 1500 mm |
| Measuring range lowest stand/highest stand | 0 - -400 mm |
| Illumination | (25m) 0 - 240 lx |
| Humidity | 20 - 80 % |
| Storage temperature | -25 - 45 °C |
| Version | - analogue |
| Packaging length | 650 mm |
| Packaging width | 1790 mm |
| Packaging height | 700 mm |
| Gross weight | 40 kg |
| Measuring range low beam left/right | 300 - -300 mm |
| Measuring range high beam left/right | 50 - -300 mm |
| Relative humidity storage | 20 - 80 % |
| Relative humidity, use | 30 - 60 % |
| Laser class cross laser | 3R |
| Projection cross laser | 90° x 0,4 mrad |
| Laser diode cross laser | 635 nm |
| Radiant power cross laser | 5 mW |
| Operating voltage cross laser | 3 - 5 V (DC) |
| | |
| --- | --- |
| Rail kit 3.3 m | 1 692 105 134 |
| Extension kit for rail kit | 1.5 m | 1 692 105 112 |
| Cover for headlight testing devices | 1 692 105 079 |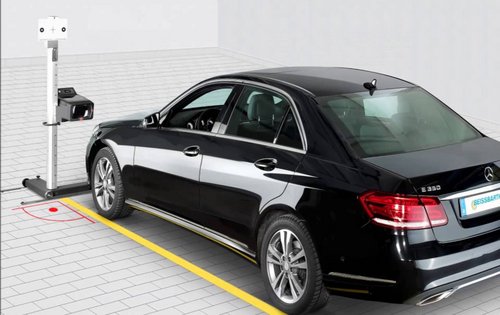 Product information sheet