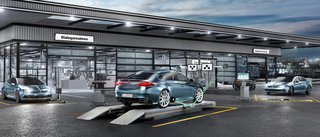 Car brake tester VAS 6360A with PC | for Volkswagen
Maximum test weight/axle 3.5 t, Test Speed 5.2 km/h, Speed sensors | with ASA livestream interface | with trolley and PC | electromagnetic brake, 4x4, 700 mm rollers | Extension possibility to test lanes | New! Power-Box inclusive!
Article number: 1 691 600 019

Brake tester VAS 6360A for track widths up to 2200 mm
The VAS 6360A brake tester handles all VW and Audi vehicles and is designed from high quality components to ensure robustness and long product life even under the harshest environments. The new version of the VAS 6360A additionally provides the user with an intuitive and fast software. The modular approach further allows easy extensions to complete test lanes at any time. Next to the classical noise detectors, side slip plates and suspension tester, the VAS 6360A brake tester can now also integrates seamlessly into the VAS 741 083 automatic tyre diagnosis system. This not only increase your tyre sales but also generates more wheel alignment service opportunities.
Beissbarth Power-Box: the practical new control unit
All electronic components safely stored in a robust and easily accessible housing
Compact, robust, and easy to service
Easy to reach ASA livestream interface integrated into the Power-Box housing
Comfortable USB interface to easily connect your customer-PC (optional)
230V socket to charge laptops of periodical test inspectors and service technicians (separate connection from authorized technician required)
Easy to access main switch with ON/OFF function
Integrated storage space for technical documentation
Advantages of the VAS 6360A:
Automatic AWD detection and 4x4 testing procedure selection
Electromagnetic motor brake for easy drive-on
Program for electric parking brakes
Enforced rollers with tough corundum coating that are gentle on the tyres
Hot galvanized frame and brake tester components
25 mm heightened rear rollers for more precise brake force measurement
Manual operation with axle wise and single wheel procedure
Standard equipped with speed sensors and ASA interface (complies with local policies)
Access to numerous features through integration into your workshop PC

Visualization of testing procedures and results via monitor
Order management, customer database management, statistic and productivity, print and archive test results and protocols
Automatic printing of protocols
Easy integration with the ASA network manager
Upgrade to full test lanes possible at any time
Display measurement values without analog display
Scope of delivery:
Trolley with PC with 27" monitor and printer
Hot galvanized rollers with 700 mm width
Power-Box with ASA livestream interface
Infrared remote control with receiver
ICPerform Car software license
Please note: this configuration does not include an analog display!
| | |
| --- | --- |
| Max. wheel diameter | 1000 mm |
| Weight | 420 kg |
| Rim diameter max. | 32 " |
| Protection class | IP 54 IP |
| Length | 660 mm |
| Height | 2360 mm |
| Width | 250 mm |
| Test speed | 5,2 km/h |
| Coefficient of friction dry/wet | 0,8 / 0,7 |
| Roller length | 700 mm |
| Roller elevation | 25 mm |
| Rim diameter min. | 10 " |
| Axle weight max. | 3,5 t |
| Roller diameter | 205 mm |
| Test width min. | 800 mm |
| Test width max. | 2200 mm |
| Min. wheel diameter | 320 mm |
| Roller axle distance | 381 mm |
| Max. drive-over load | 4,0 t |
| Height difference upper edge of roller to workshop floor | -10 mm |
| | |
| --- | --- |
| Edge protection for car brake tester BD 4xxx, 700 mm | 1 691 602 000 |
| Drive-over plate pluggable | 700 mm | 1 691 601 010 |
| Drive-over plate swiveling | 700 mm | 1 691 601 011 |
| Installation frame for car brake tester BD 4xxx, 700 mm | 1 691 602 115 |
| Digital calibration kit for brake tester | 1 691 601 392 |
Product information sheet