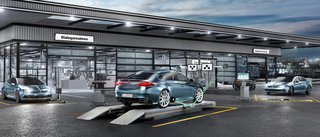 eTarget Kit | Digital 15-in-1 solution
15-in-1 calibration patterns in one eTarget for faster and error-free target board selection.
Article number: 8 900 380 011

eTarget: fast and space-saving solution for workshops – broad manufacturer coverage included
eTarget is an innovative digital calibration target based on e-paper technology - unlike conventional monitors, beamers or other screen solutions.
OEM-compliant calibration targets for precise and fast ADAS calibration with Q.DAS:
Faster setup times, more space: 15 patterns in one eTarget
Automatic pattern selection minimizes user errors
Extremely high contrast, even from different viewing angles
Reflective technology for all lighting conditions
Integrated Bluetooth module for app communication
Lightweight and robust housing
Downward compatible with previous Beissbarth calibration solutions (BBFAS 1xxx, BBFAS 415)
Battery operated and power saving – display is maintained even without power

Scope of deliveries:
2x eTarget with charging cable
1x Universal Type 4S (8 900 382 570)

Note: Automatic target selection requires active license for Q.mApp software.
Product information sheet