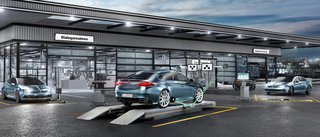 Car brake tester BD 4431 S20
Maximum test weight/axle 4.0 t, Test Speed 5.2 km/h, Speed sensors | without Analog display, flexible solution via customer PC (PC Kit is needed) | elektromagnetic brake, 4x4, Roller width 700 mm | Extension possibility to test lanes | New! Power-Box inclusive! | Spike rollers
Article number: 1 691 600 854

New! Power-Box for the BD car series
BD car brake testers comply with the guideline and are thus suitable for general vehicle inspections. At the same time, there are modular auxiliaries for diagnoses as well as repair and service tasks at the workshop. Absolutely in line with specific customer requirements, the brake tester can be expanded and turned into a test lane for suspension testing and side slip testing. Operation, visualization and evaluation of the test results are made by means of an analogue display or via PC.
Just use the workshop computer
The new kits allow additional connectivity options for the BD series. The integrated PC kit is designed for its installation inside the new Power-Box and allows direct linkage to the workshop PC.
More service, more customers
In order to ease and speed up the brake service, the BD car series and the new Bosch Power-Box can be complemented by powerful accessories:
Column for the Power-Box
PC trolley
LCD display set for the display unit
Professional IR PC kits (integrated or external)
Pedal-force sensor (wireless version)
Roller covers
IR remote control
Access to multiple functions by means of a linked workshop PC
Visualization of test procedures and results via screen
Job processing, customer database, statistic evaluation or print and archiving functions can be used to full extent
Test protocols are printed automatically
Quick extension and conversion into a test lane is possible
Analogue display is not required
Power-Box for the BD car series
Compact, robust and service-friendly
All electronics are compact and safety stowed
Easily accessible on the wall or on column
All electronic components are safely stored within a light-weight and easily accessible housing
230 V socket for the laptop of the service-technician or tester
Easily accessible main switch with emergency shutdown
Integrated door pocket for the technical documentation
Wall mount (series version) or column (optional)
Four possibilities for PC connections
To operate with PC, one of the following kits is needed
Integrated ICperform PC-Kit (incl. ICperform Software license and Tablet app license), part No. 1 691 601 964
External ICperform PC-Kit (incl. ICperform Software license and Tablet app license), part No. 1 691 601 965
Integrated ICperform PC-Kit with Remote Control (incl. ICperform Software license), part No. 1 691 601 963
External ICperform PC-Kit with Remote Control (incl. ICperform Software license), part No. 1 691 601 966
| | |
| --- | --- |
| Max. wheel diameter | 1000 mm |
| Weight | 420 kg |
| Rim diameter max. | 32 " |
| Protection class | IP 54 |
| Length | 660 mm |
| Height | 250 mm |
| Measuring system | DMS |
| Width | 2360 mm |
| Test speed | 5,2 km/h |
| Coefficient of friction dry/wet | 0,8 / 0,7 |
| Roller length | 700 mm |
| Roller elevation | 25 mm |
| Rim diameter min. | 10 " |
| Axle weight max. | 4,0 t |
| Roller diameter | 205 mm |
| Test width min. | 800 mm |
| Test width max. | 2200 mm |
| Min. wheel diameter | 320 mm |
| Roller axle distance | 381 mm |
| Max. drive-over load | 4,0 t |
| Height difference upper edge of roller to workshop floor | -10 mm |
| | |
| --- | --- |
| Integrated Icperform PC Kit with ICperform Software License and Tablet App License | 1 691 601 964 |
| External Icperform PC Kit with Icperform Software License and Tablet App License | 1 691 601 965 |
| Integrated Icperform PC kit - IR with IR remote control and ICperform Software License | 1 691 601 963 |
| External Icperform PC kit with IR remote control and Icperform Software License | 1 691 601 966 |
| Remote control | 1 691 701 018 |
| IR receiver | 1 693 770 001 |
| Extension cable for receiver | 10 m | 1 691 603 000 |
| Remote control and IR Receiver | 1 691 701 311 |
| Testlane PC with a serial interface | 1 691 810 703 |
| PC cabinet Standard | empty | 1 691 811 250 |
| PC gear pack for PC cabinet Standard | 1 691 810 743 |
| Monitor holder 17 - 27" | 1 693 740 884 |
| Monitor holder 22 - 35" | 1 693 740 911 |
| Display RAL 7040 | analog, oval | swivel arm, IR receiver | 1 691 601 771 |
| Display RAL 7016 | analog, rectangular | LCD, swivel arm, IR receiver | 1 691 601 762 |
| Display RAL 7040 | analog, rectangular | LCD, swivel arm, IR receiver | 1 691 601 768 |
| Display RAL 7040 | analog, rectangular | swivel arm, IR receiver | 1 691 601 776 |
| Stand column aluminium | RAL 7016 | for TV Monitor / rectangular analog display | 1 691 810 722 |
| Stand column RAL 7040 | for TV Monitor / oval analog display | 1 691 600 470 |
| TV Adapter for stand column | 1 691 812 324 |
| TV adapter for stand column / swivel arm | 1 691 812 325 |
| Swivel arm for TV adapter | 1 691 601 959 |
| Stand column for Power-Box | 1 691 601 435 |
| Edge protection for car brake tester BD 4xxx, 700 mm | 1 691 602 000 |
| Installation frame for car brake tester BD 4xxx, 700 mm | 1 691 602 115 |
| Drive-over plate swiveling | 700 mm | 1 691 601 011 |
| Drive-over plate pluggable | 700 mm | 1 691 601 010 |
| Axle load scale 4 sensors | 1 691 601 606 |
| Steel stripy for weights | 1 691 601 009 |
| Pedal force wireless | 1 691 601 401 |
| Smooth start 400 V | 1 691 601 437 |
| Cableset 400 V | Power-Box to roller set | 30 m | 1 691 601 444 |
| Joint play detector GST 651 | 230 V | 1 691 650 001 |
| Joint play detector GST 651 | 400 V | 1 691 650 000 |
| Digital calibration kit for brake tester | 1 691 601 392 |
| Installation frame for play detector GST 651 | 1 691 651 001 |
| Lifting and lowering device | HUS 104 | for BD 4xxx brake tester | 700mm | 1 691 600 015 |
Product information sheet