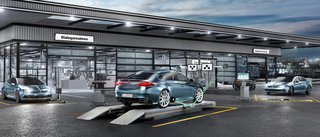 Truck brake tester BD 8427 S05
Up to 18 t axle load, mechanic NEW 2017, PC ready | ICperform Software, New Tablet-App | 2 Speed, electromagnetic motor brake, 4 x 4, Roller 1000 mm | ASA-Livestream, hydraulic load simulation, 8-points-weight system, 5 km/h motors
Article number: BD 8427 S05

Up to 18 t axle load, mechanic NEW 2017, PC ready
ICperform Software, New with Tablet-App
2 Speed, 4 x 4
Coated Rollers, 1000 mm
With electromagnetic motor brake
ASA-Livestream
Hydraulic load simulation
8-points-weight system
5 km/h motors
Fits in popular foundations
Optional accessories
Durable sliding
8-points-weight system (available in bill of material in some configuration)
Option for Tacho control
Drive-over plates
Weather-resistant hot-dip galvanization, steel chains
Radio controlled air-pressure sensors
Pit safety in different sizes
ICperform: new Software
Intuitive and fast in use
Optimum display of all relevant measured values
Easy handling
Faster brake testing
Print and database functions
Connection with other test devices within the test lane
Icperform Tablet-App
ICperform tablet app: measuring faster without having to get on and off the truck
The intuitive user interface can be accessed via Android tablets operate and enable stable measured value transmission and control via the W-LAN connection – even from inside the vehicle.
Roll resistance, ovality, braking forces per axis or wheel, left-right comparison or pressure values, all data are displayed in real time and visually intuitive
Working with Beissbarth's ICperform tablet app speeds up the process and eliminates unnecessary entry and exit from the vehicle.
New! ICperform tablet app from Google Play
The app is available at play.google.com. Download it to your tablet and try the features for up to 30 days free of charge. You can obtain your license for the ICperform tablet app (order number 1 691 810 756) directly from the Beissbarth hotline.
Carrying out brake tests easily and quickly with the software ICperform tablet
Data entry of vehicle information
Selection of testing mode
Test control conveniently in the vehicle cabin
Usage of own tablet devices
Same representation as on the workshop PC monitor
Easy control from the inside of the truck
Intuitive and guided: fully automated procedure (covers 80 % of the common test ingroutines)
Integrated remote control
State of the braking test and important measuring results always at a glance
Download at play.google.com and use the app for free of charge for a 30 days testing period
Connected Repair for networked truck systems
Brake testing
Headlight testing
Emission analysis
Air condition service
Connected Repair is able to read commercially available job data. Thanks to crosslinking, the central server-based software solution eases and accelerates the work processes of all connected test devices. Purchasing BD, the software for one work station is included within the scope of delivery.
Installation of one PC is free of charge
Networking of other workplaces via licence (availability at their Beissbarth dealers.)
Available in 16 languages
Connected repair: for faster work processes with the HTD 815 headlight tester
Tests all types of light sources (xenon, bi-xenon, LED, bi-LED, halogen) and all types of truck headlights.
MLD 815 Matrix/DLA version for glare-free high-beam systems (DLA*, Matrix)
With CMOS camera and integrated printer.
Hydraulic load simulation
In line with § 29 StVZO (VkBl. 09/2011), of the German road traffic registration ordinance, Deadline 31.12.2019*
Lifting device for load simulation (lifting height: 200 mm)
Neatly integrated into the roller housing
Increases the brake-cyclinder pressure to the 1.7 bar demanded
Remote control (optional) right from the driver cab
Suitable for almost all trucks and trailers
Especially recommended for empty/lightweight lorries
According to the guideline, commercial vehicles need to be tested with a minimum statutory brake pressure of 1.7 bar. In case of commercial vehicles with a high load/no-load ratio - e.g. empty trucks and trailers - not building up the required minimum pressure, load simulation can be used as well. Instead of sophisticated tying down of multiple axles, the axle to be tested can also be lifted for the test. At this much simpler procedure, the required axial pressure is created by altering the weight balance.
Fits in almost all popular foundations
Easy installation
Because the hydraulics of the load simulation is integrated in the roller set housing, it is possible install the BD in almost all old foundations. Simply remove the old test bench and use new ones.
System requirements
Min. PC requirements
Operating system: Windows 7, Windows 10, 64 Bit
Processor: Celeron 2.7 GHz
Random access memory: 4 GB
Hard disk: 500 GB
Serial port: 2x RS232 (COM)
Min. PC display requirements (trolley)
Size: 27"
Solution: 1920 x 1080
Width-to-height ratio: 16:9
Min. HDMI-TV requirements (substitute for analogue display)
Minimum size: 40"
Recommended size: 55"
Solution: 1920 x 1080
Width-to-height ratio: 16:9
Min. tablet requirements
Operating system: Android 5.0 or higher
Minimum size: 8"
Recommended size: 9,6"
Width-to-height ratio: 16:9 or 16:10
Basic requirement: WLAN network with router
Scope of delivery
Truck Software (part No. 1 691 810 741)
ASA-Livestream
Hydraulic load simulation
Roller set left (part No. 1 691 810 560)
Roller set right (part No. 1 691 810 561)
Power-Box (part No. 1 691 810 547)
Incl. 30 m cable
| | |
| --- | --- |
| Standard-Software Truck | ICperform | 1 691 810 741 |
| Roller set series 8 | left | 1 691 810 560 |
| Roller set series 8 | right | 1 691 810 561 |
| Power-Box Series 8 | 1 691 810 547 |
| | |
| --- | --- |
| Max. wheel diameter | 1200 mm |
| Rim diameter max. | 40 " |
| Protection class | IP 54 |
| Length | 1350 mm |
| Height | 782 mm |
| Measuring system | - DMS |
| Width | 1140 mm |
| Coefficient of friction dry/wet | 0,8 / 0,7 |
| Roller length | 1000 mm |
| Roller elevation | 50 mm |
| Rim diameter min. | 13 " |
| Roller diameter | 280 mm |
| Test width min. | 900 mm |
| Test width max. | 2900 mm |
| Min. wheel diameter | 320 mm |
| Roller axle distance | 438 mm |
| Weight without lifting device approx. | 750 kg |
| Weight with lifting device approx. | 1030 kg |
| Roller set lifting | 200 mm |
| Motor connection cable | 7 x 4 mm² |
| Gear ratio | 1 / 17,27 |
| Test speed (low) | 2,2 km/h |
| Test speed (high) | 4,6 km/h |
| Motor revolution speed (low) | 1450 rpm |
| Motor revolution speed (high) | 2950 rpm |
| Roller revolution speed (low) | 43,4 rpm |
| Roller revolution speed (high) | 87,6 rpm |
| Motor power (low) | 2 x 10 kW |
| Motor power (high) | 2 x 12,5 kW |
| | |
| --- | --- |
| Built-in frame BD 8xxx / 1000 mm / 18 to | separated, with pit | 1 691 810 713 |
| Built-in frame BD 8xxx / 1000/1100 mm | track width 3000 mm | non-separated (w/o pit) | 1 691 810 714 |
| Built-in frame BD 8xxx / 1000/1100 mm | track width 3100 mm | non-separated (w/o pit) | 1 691 810 715 |
| Built-in frame BD 8xxx / 1000/1100 mm | track width 3200 mm | non-separated (w/o pit) | 1 691 810 716 |
| Tablet-App | 1 691 810 756 |
| IR remote control Truck | 1 691 810 704 |
| IR Kit Truck | 1 691 810 702 |
| Remote Control for load simulation | 1 691 810 701 |
| Testlane PC with a serial interface | 1 691 810 703 |
| PC cabinet Standard | empty | 1 691 811 250 |
| PC gear pack for PC cabinet Standard | 1 691 810 743 |
| Monitor holder 17 - 27" | 1 693 740 884 |
| Monitor holder 22 - 35" | 1 693 740 911 |
| Display RAL 7016 | analog, rectangular | LCD, svivel arm, IR receiver | 1 691 810 750 |
| Stand column aluminium | RAL 7016 | for TV Monitor / rectangular analog display | 1 691 810 722 |
| Kit-Drive over plate BD 6xxx / BD 8xxx / 1000/1100 mm | 1 691 810 717 |
| Pit safety PSC2 | cross | 1 691 810 723 |
| Pit safety PSC2 | cross | 1 691 810 724 |
| Pit safety PSC2 | cross | 1 691 810 725 |
| Pit safety PSC1 | long | 1 691 810 726 |
| Swivel bracket PSC1 | 1 692 100 102 |
| Wired air pressure sensor APS1 | basic set - PM / PX1 | 1 691 810 733 |
| Wired pedal force tester APS1 | PD | 1 691 810 734 |
| Warn-System for air pressure sensors | 1 691 810 735 |
| Side Slip Tester MSS 8400 | 1 691 841 007 |
| Built in frame for MSS 8400 | 1 691 842 001 |
| Joint play detector GST 8508 | 400V | 1 691 850 100 |
| Adaptation kit for tachograph test with proximity switch BD8xxx | 18 to | 1 691 810 736 |
| Adaptation kit for Semmler Tachocontrol BD8xxx | 18 to | 1 691 810 737 |
| Digital calibration kit for brake tester | 1 691 601 392 |
| Air pressure sensors | Truck | APS 3 | 1 693 770 658 |
Product information sheet