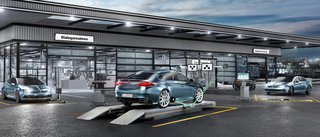 Passenger car tyre changer VAS 741 047 | for VOLKSWAGEN
Suitable for workshops with high order volumes | Rim diameter inches 13 - 30" | Leverless mounting/demounting tool | incl. assistance column Tecnoroller NG, bead breaker, single-lever central voltage, side storage and Side Lift NG
Article number: 1 694 200 981

Traditional machine design for quick training coupled with all the features and comfort for a safe and effortless tyre change.
The Ergo Control bead breaker, which is easy to operate with one hand, and the Side Lift NG always allow you to work in an ergonomic and safe position.
Special electronics automatically provide higher torque and smooth start-up.
In addition, the leverless assembly head TLL enables a simple, fast and controlled process, even when used with UHP / run flat tyres.
Tecnoroller NG assistance column with separately controllable auxiliary arms
Ergo Control bead breaker - without pedal, only fine and powerful controllable by hand, recoilless
Mounting column in "oversized" design (140 x 140 mm)
Ultra-quick wheel clamping system
Adjustable tyre paste holder
Automatic wheel release vertical and horizontal
Scope of delivery:
Passenger car tyre changer VAS 741 047
Assistance pillar Tecnoroller 2 NG with double horizontal arm, for even more support
Ergo Control bead breaker
Side Lift NG, directly at the bead breaker
Tyre filling system
Plastic protection for mounting head
Plastic protection for bead breaker
Bead depressor plate
Central locking Protection
Cone protection central voltage
Bolt protection central voltage
Cone Ø 70 mm
Storage ring for horizontal arm
| | |
| --- | --- |
| Max. wheel diameter | 1200 mm |
| Bead breaking range | 75 - 401 mm |
| Bead breaker force | 11 kN |
| Compressed air connection | 8 - 10 bar |
| Weight | 450 kg |
| Max. rim width | 15 " |
| Rim diameter max. | 30 " |
| Depth | 1950 mm |
| Height | 2300 mm |
| Power supply | 230 V | 50 Hz | 1 ph |
| Width | 2100 mm |
| Rim diameter min. | 13 " |
| Rotation speed | 7 - 15 rpm |
| Number of mounting speeds | 2 |
| | |
| --- | --- |
| Protective cover for leverless mounting tool | left | 5 pcs. | for MS 650S V8, MS 670S V8 | 1 695 106 589 |
| Protective cover for mounting tool | 5 pcs. | for MS 630 S V8, MS 650 S V8, MS 670 S | 1 695 100 083 |
| Protective cover for mounting tool | for MS 5x0 S, MS 63 S, MS 630 S, MS 650 S before MD 05/2016 | 1 695 105 589 |
| Plastic demounting lever | 1 695 107 027 |
| Rubber protection for centre locking | for MS 670 S and MS 900 | 1 695 107 444 |
| Protection kit for clamping cone | for MS 670 S and MS 900 | 1 695 108 120 |
| Cone for steel rims | Ø 75 - 120 mm | for MS 670 S and MS 900 | 1 695 107 441 |
| Cone Ø 70 mm | for MS 670 S and MS 900 | 1 695 000 289 |
| Cone Light Truck | Ø 75 - 145 mm | for MS 670 S and MS 900 | 1 695 107 440 |
| Cone Light Truck | Ø 120 - 190 mm | incl. spacer | for MS 670 S and MS 900 | 1 695 108 136 |
| Cone Light Truck | Ø 190 - 223 mm | incl. spacer | for MS 670 S and MS 900 | 1 695 107 442 |
| Cone set Light Truck | Ø 120 - 190 mm / 190 - 223 mm | incl. spacer | for MS 670 S and MS 900 | 1 695 108 195 |
| Cone for BMW | for MS 670 S and MS 900 | 1 695 108 140 |
| Cone for Porsche | for MS 670 S and MS 900 | 1 695 108 139 |
| Cone for Lamborghini | for MS 670 S and MS 900 | 1 695 108 138 |
| Flange kit BMW OE spec. | for MS 670 S and MS 900 | 1 695 000 323 |
| Wheel clamping adaptor kit for clad wheels | for MS 670 S and MS 900 | 1 695 108 196 |
| Shovel protection for bead breaker | for MS 5x0 S, MS 630 S, MS 650 S | 1 695 106 152 |
| Bead pressing device thin | 1 695 103 261 |
| Bead pressing device thick | 1 695 103 216 |
| Inflation gun Eurodainu Michelin | 1 695 042 877 |
| Roller board | for MS 63 S, MS 5x0 S, MS 6x0 S | 1 695 106 190 |
| Rim clamp with spacer | 1 695 103 302 |
| Tool storage kit | for MS 5x0 S, MS 6x0 S | 1 695 102 584 |
| Plastic rim protection | 1 695 105 191 |
Product information sheet